There's a pattern to what appears at first glance to be mayhem encountered when riding a bicycle in city traffic in Vietnam.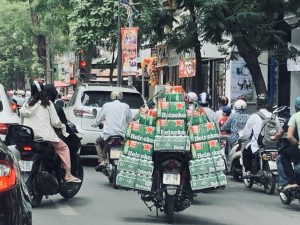 That goes the same for when trying to cross the street on foot, too. The trick is to just…step off the curb, and slowly move forward towards the other side, keeping a trusting eye on what's hurtling towards you front the right. You place your trust in the other. The other simply needs you to not freeze in terror, but to simply keep slowly forging ahead. The trajectory is then timed, and executed with simple last second randomness, and a few assuring beeps communicating intent.
The only variable that's a makes me nervous is seeing the young male scooter drivers who accomplish this while texting. THAT makes me nervous.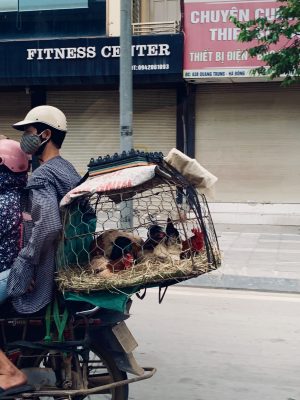 After five different rides for a cure, I have an m.o. for my first day back on the road: take it easy. That means you take the time to ease off the curb, step into the dance, get familiar with the patterns of beeps from motorbikes, large trucks, cars and other merging traffic. See what the stoplight/intersection vernacular is. Know what color the highway signs are, and how they lay out information. And if its ever too tenuous-feeling, you simply drift over to the side current and join the bicycle traffic. Or lumber along with the cattle. You even occasionally lock eyes with a bovine, and say, with your gaze, "so how's your day going, Bessie?"
Eventually, the roads narrow, green irrigation ditches and fields appear on either side, farmers on tractors replace taxis, and the lanes empty. Gradually, mist-shrouded mountains rise up out of the humidity-hazed horizon, and you set your course for the dark green hills. It will take about a week and a half for your "mountain legs" to take shape. So- ease into it.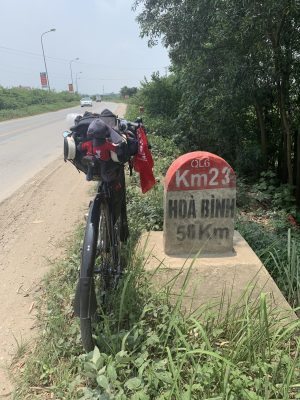 Stopping every 10 miles or so for a break is also great practice. A lot of spontaneous conversations happen at these times, even if you don't know the language. Today was like that. On my first stop, I started practicing some of my Vietnamese phrases, and got results; two cold bottles of water and a package of cookies that I was very pleased to find out didn't have lemon flavoring in them. I'll know what package to look for next time, until I'm ready to try out a different picture! As I sat on a tiny plastic chair, and gazed out at the stream of life I had just pulled out of, a sun-blasted old man wandered around the corner, saw my bike and me, and then grinned, approached me and then patted me on the shoulder in greeting.
"Hoah Binh?"
"Yes, that's where i am headed."
I offered him a cookie. He sat down next to me, and together, we stared out into the heat and traffic. Every now and then, he gestured and said something to me in Vietnamese. I answered in English, even though I had no idea what he was saying. But I like these sorts of things. He could have been saying "nice day, is it not?" So I answered with "these cookies don't have lemon in them, did you know that?" He nodded in agreement, and patted my shoulder again.  Together, we sat at our tea party, ate cookies, and conversed, as the hot afternoon drifted by.
The same thing happened to me tonight after I had worked my way the rest of the afternoon through the foothills of the mountains to the river valley that Hoah Binh is nestled along. A tremendous lightening storm and downpour hit just as I got into my hotel room. Good timing. Weather is going to be another variable on this journey! I looked up a Vietnamese restaurant on google, and found one that looked cool, ordered a cab, and 15 minutes and $3 later, I stepped out into the downpour and onto the outdoor patio of a family-style sit down Hmong restaurant.
"Hello, good evening!" called out a woman. "Sin chow!" I replied, and I was ushered into a wood-lined dining room where, after removing my shoes, I was shown over to sit on a pad on the floor before a low table. While I waited for her to return, a toad hopped out from under the table, gave me a cursory glance, and then began working his way along the wall. He was curious about the menu, too.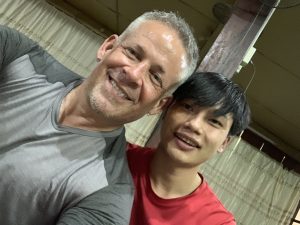 Soon, a young Vietnamese man hustled in with a serving tray, placed plates of steaming heaps of greens, rice, and meat in front of me, then squatted down next to me, whipped out his cell phone, threw his arm around me, and snapped a selfie, smiled shyly, and then sped out of the room.
The toad stared at me, dejectedly, and continued his search for a meal.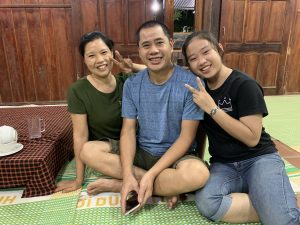 Later on, after a fun conversation with the Hmong family; mom, dad and daughter, it was time for me to leave and get back to much needed sleep. The family, posing for a picture, happily intoned "one, two, tree!" as I lined up the shot. Saying farewell, I stepped off the curb, and back out into the rain. Entering the waiting cab, I locked eyes with four fat porcelain Buddhas lined up on the dash. Street lights and lightening flashed as we made our way into the rain swept night, their silhouettes seeming to tell me, with assurance, "welcome to Vietnam! You're in for quite a ride!"
The old pond,
A frog jumps in:
Plop!
-Basho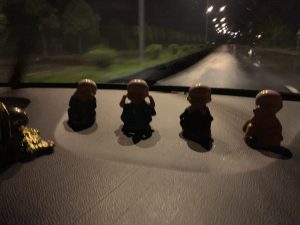 I'm George Maurer, and I'm bicycling across Vietnam to raise funds for cancer research and agent Orange relief. Please consider supporting my cause!
http://www.vn-agentorange.org/donate.html