Today was my 25th day of riding for a cure across Vietnam. I also cruised past the 2,000km mark today as well (around 1300 miles).
*We've also raised $4565 of my $5,000 goal! YES!
1 day of riding left, tomorrow. Help me raise the remaining $435!!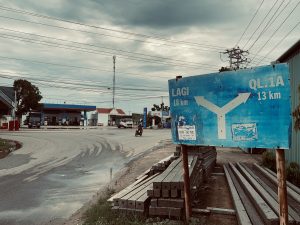 During that time frame, I've witnessed a million things from the vantage point of a bicycle seat. Some of those I've stopped to take pictures or video of, others, I've simply committed to memory, to be written about at a later date. I've missed a million chances for the perfect picture, but sometimes that's just how it goes. And most times, its for the better. The further I bike, the less I want to intrude in on a way of life I have barely scratched the surface of knowing about.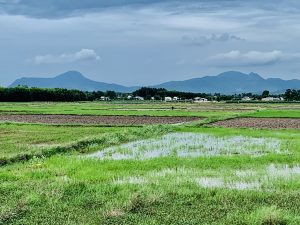 I've smelled a million smells, too. Most of them are not scents to write home about. That's been one of the more difficult things about this ride: pollution is pretty serious here. There are reasons for that, and causes for all that. I'd like to read up more on why this is so, rather than make assumptions.
To me, Vietnam is still quite beautiful. Stunning, in fact.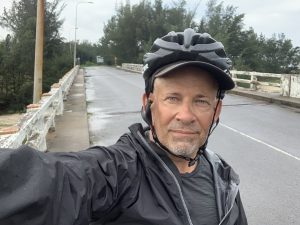 Today's ride was a bit surreal. Much of my road hugged the coastline of the South China Sea, passing through small seaside village after village as I worked my way 85km down the coast towards Ho Chi Min City. After sitting out a heavy downpour at a small cafe (small cafe's are literally within spitting distance of each other here- the challenge is to try to pick the one that actually matches up with the marquee out front), I donned my rain jacket and headed off through dirty puddles, playing a "frogger"-like game with both oncoming and approaching traffic from my rear.  I still managed to get squelched a number of times, not having been able to get beyond a giant muddy puddle before a tour bus came blasting through. Thank god for water-proof bags and wet wipes.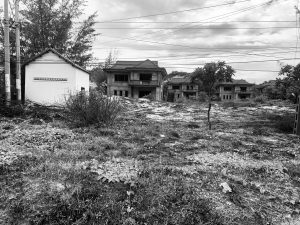 Much of my road passed through mile after mile of ghost resorts along the sea shore. My fellow Minnesotans know what a drive up the North Shore of Lake Superior during the summer season is like. Well, imagine that drive, but with each town and each resort passed, you find yourself staring at mile after mile of abandoned properties. Jungle-invaded villas. Crumbling high rise hotels. Ghost towns, with pack dogs running loose. Garbage everywhere, and in between all of that, enormous grey sand dunes shifting, creeping, reclaiming. I had to keep an ever vigilant eye for dogs today. They have been the biggest hazard here in Vietnam.
And then, add on top of all of that, a floating, dancing blanket of tan colored dragon flies filled the air to the horizon as I rode. Just to find a way to add some poetry to all of this, for the first time on this journey, I popped in one earphone and dialed up the "Bach Cello Suites" by Yo-Yo Ma.  
Allemande. 
Sarabande.
Menuette. 
Gigue.
It all made the sights, the scents, the sounds feel like the vestiges of a final dance through what has been a long, long run. And as I rounded the corner at the halfway mark, great immense, striking boulders dotting the shoreline served as the backdrop to a random wedding photo shoot. Waves crashed. A photographer's assistant fought with the wind to shield a delicate bride with an immense red umbrella. Seconds later, they were small figures in my rear-view mirror, committed to my memory. Yo Yo continued to paint the scenery for me.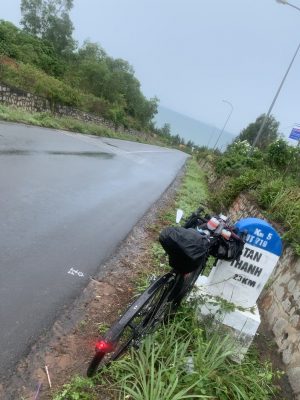 I crept along the coast for 6 hours like this. For 25 days, I've crept along many roads throughout Vietnam for 6-12 hours a day on my bicycle like this, too.
I have never ended a day not having been amazed by what I have been so privileged to see.  
And to smell.
I'm George Maurer, and I've bicycled 1200 miles across Vietnam to raise funds for cancer research and Agent Orange relief. Please help me meet my fundraising goal!
https://philanthropy.mayoclinic.org/carolynheld
#sju
#sjualumni
#csbsju
#saintjoanofarccatholiccommunity
#MayoClinic #MayoClinicCancerCenter #CancerResearch