March 10, 2016
FOR IMMEDIATE RELEASE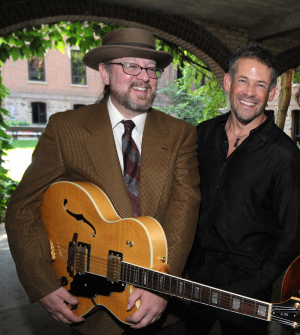 Collective Unconscious and jazz group band mate Muggsy Lauer joins George Maurer for 3rd 'Stripped Down' at Pioneer Place
ST. CLOUD — George Maurer and Muggsy Lauer have been playing music together since Maurer had a monster mullet and Lauer had a full head of hair.
Nearly two decades and a lot of lost follicles later, the closely cropped Maurer and slightly balding Lauer are taking the stage as a duo for the first time Sunday, March 20 as they bring the third installment of "Stripped Down" to St. Cloud's Pioneer Place on Fifth.
They have plenty of songs and stories to share from their nearly 20 years with the George Maurer Jazz Group and Trio, rock band Collective Unconscious and KVSC trivia weekend's Shake A Hamster Band. Their music and friendship have flourished where their coifs have not.
Audiences can expect a stripped-down set of folk, jazz, rock and originals, some old, some new, some slightly obscure, with just Maurer and his piano and Lauer and his guitar — and, of course, his famous scat. They'll have plenty of stories to divulge between tunes as Maurer interviews Lauer about his memories, influences and their countless hours together driving back and forth to gigs.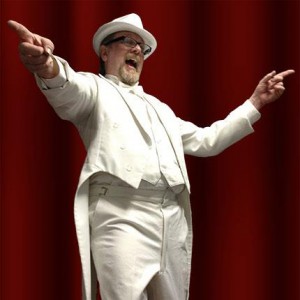 As Lauer puts it, "What happened on the road is not staying on the road anymore."
Maurer and Lauer have shared many stages in many manifestations, but Central Minnesota will best remember them from the George Maurer Jazz Group's annual holiday show and Collective Unconscious's stellar "Abbey Road," "Pet Sounds," "Bridge Over Troubled Water, "The Last Waltz" and "Déjà vu" performances.
They met during a St. Cloud production of "A Christmas Carol" in the mid-1990s, joined forces with bassist Jeff Engholm in a 1996 production of "Joseph and the Amazing Technicolor Dreamcoat" and formed Collective Unconscious with guitarist Nathan Nesje and drummer Andy Deckard in 2000.
In addition to playing in Collective Unconscious and the George Maurer Jazz Group, Lauer owns Muggsy's Beans, Inc., plays in the local reggae band the I-Drops, is a mainstay in the Veranda Lounge's "Monday Night Jazz" and performs in the "Takin' It to the Limit" Eagles extravaganza and "Takin' It to the Streets" Doobie Brothers show. His St. Cloud musical roots go back to the 1980s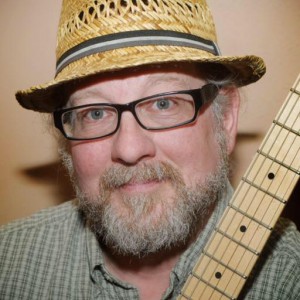 band Monastic Beach, and he was a member of the first incarnation of the Surahoolies.
Maurer has spent the past couple of years doing music arrangements and playing keyboards for the national tour of the Midtown Men, featuring members of the original Tony-winning "Jersey Boys" cast. He joined the Midtown Men for an appearance on the Today Show this summer.
"Stripped Down" gives Pioneer Place audiences the opportunity to spend an intimate evening with Maurer and Lauer as they perform together and bare their musical pasts.
Show time is 7:30 p.m. Sunday, March 20. Tickets are $19 in advance and $22 at the door and available on the Pioneer Place website, http://www.ppfive.com/or by calling the box office at (320) 203-0331.