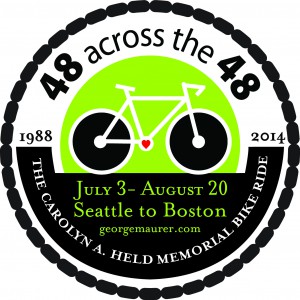 I am taking a once-in-a-lifetime bicycle journey across the country. I am putting my musical career on hold this summer to answer an inner challenge and pay tribute to one of my closest friendships, and I am going to need your help to reach my goals.
"48 Across the 48: The Carolyn A. Held Memorial Bike Ride" will honor Carolyn's memory and raise money for a memorial fund set up in her name to benefit cancer research at the Mayo Clinic Cancer Center, to which Carolyn made many journeys during her battle with cancer. 100% of the proceeds will go to this cause.
Carolyn made a difference with just her bike and 48 days. Now it's my turn.
Help sponsor me, in any amount, to benefit cancer research at the Mayo Clinic:
The Carolyn Held Memorial Fund
Mayo Clinic, Department of Development, 200 First Street SW, Rochester, MN 55905
855-852-8129
Your contribution is 100% tax deductible.
Beyond your Mayo donation, if you have extra to share, I welcome you to contribute to my food, camping and bicycle equipment expenses. These donations are not tax deductible. However, they do help offset the $5,000-plus cost of being on the road for 48 days, working to raise funds for the Carolyn A Held Memorial Fund.
For tax-deductible corporate sponsorship opportunities, please contact me at gemaurer@yahoo.com
A special thanks to sponsors 501FIT and Pounce.com for helping keep down expenses.
Why I'm riding
This has been a pinnacle year for me musically. I recently won a McKnight Composer Fellowship, I brought my "Autumn Song" musical theater performance to Berlin to overwhelmingly enthusiastic response and I am in the midst of composing my first full-length musical, "Empire Builder." I'm about to enter a new professional era.
But first, I have to answer a bigger calling.
Since cancer took Carolyn Held's life in 2012, I have felt a need to pay tribute to one of my deepest friendships. I want to do it in a way that honors her spirit of caring, generosity and perseverance. Re-creating her 1988 cross-country bicycle ride to help important organizations is the best way I can think of to honor Carolyn.
Carolyn rode to make a difference for young people: She raised $4,000 for the Boys and Girls Club of Little Falls, Minnesota. I'm riding to make a difference for people like Carolyn.
This is the summer to do it. Carolyn made her journey when she was 48, as I am now. My goal is to ride across the lower 48 states in 48 days, just as Carolyn did. I will be camping along the way as she did, too, and following a route that parallels hers as much as possible. You can follow my journey on my blog and the 48acrossthe48 Facebook page.
I will carry her journal from her ride from Seattle to Boston and use it for inspiration and introspection as I pedal about 75 miles a day with nothing but my bike and thoughts to keep me company.
This is the biggest personal challenge I have ever undertaken, and I know at times it be trying physically and mentally. However, Carolyn did it – she wrote a book about it, in fact – and I want to prove to myself that I am capable of pushing my limits to make a difference.
My inspiration
I met Carolyn McGrath and Pat Held when they became fans of my solo piano music when I was 19.  They were some of my earliest supporters and started buying my recordings while I was still at Saint John's University, where Pat also went to college.
I played for their wedding, and for 24 summers, I've performed the annual "Heldstock" summer house concert at their lakeside home near Motley, Minnesota.
Carolyn and Pat would always set up their lawn chairs next to each other in the front row, and I loved watching them smile and hold hands as I performed. But last summer at Heldstock 24 the chair next to Pat was empty. Carolyn had lost a year-long battle with cancer.
We all miss her. But, as can be said about all people who make a difference in our lives, her spirit does live on, encouraging those of us who knew Carolyn to overcome the challenges in our own lives.
Pat later said, "Once she had accomplished that journey, there was never any challenge too big for Carolyn to overcome or find a way around. It was a journey that changed her forever."
Carolyn was a teacher who inspired countless students to make their lives meaningful. She was generous, giving her time and energy to her friends and to causes that were important to her. She was one of the bravest people I have ever known, in the face of cancer, later, and in her quest to cross the country on her bicycle.
"Her bike ride across America was a metaphor in many ways of her fight against cancer," Pat said.
"She met it head on and just kept living life to the fullest until the very end. Her vibrant and unquenchable spirit and zest for life will inspire me until we meet again. I miss her so much."