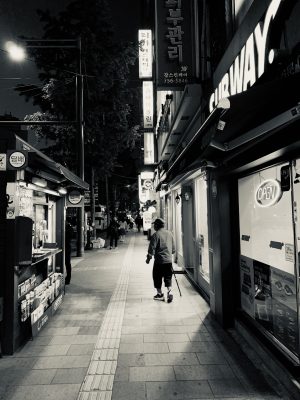 I have to say that the 16 hours I spent on layover in Seoul on my way to Hanoi, Vietnam were worth it (including the 13 hours it took to fly there).  Incheon Airport is AMAZING!
So is Central Seoul. I took the express train into the city center, and once found my way out of the train station, I began to wander until I found food. And I did!  Korean food is spicy! Truthfully, there is nothing I love more than being in the middle of a sea of people who speak a different language than mine.
I'm no stranger to this, as my 22 years on stage with the George Maurer Jazz Group has gotten me used to hearing different languages all the time being "spoken". Word-language is no different. You can still listen in on a conversation on a subway, a bus, a street corner, or coming from the table next to you, and if you listen closely enough, you can learn some things about what's going on.
Bicycling across Vietnam over the next 30 days will be no different!
I'm now on a four hour layover at Ho Chi Min City (SGN) airport, awaiting a two hour flight to Hanoi, my final flight destination for the first part of this journey.  Hanoi is also the starting line for 53 Across Vietnam: the 6th annual Caarolyn Held memorial bike ride, beginning early this Friday morning, the 24th.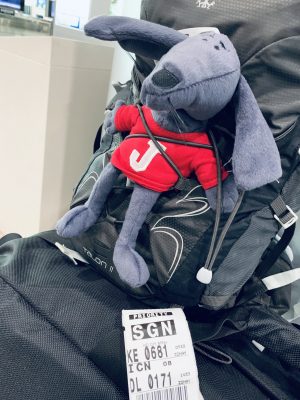 I'm happy to say the bike, gear and John E Rat (more about my mascot this ride later) all arrived in one piece (or so I guess, as we shall see once I unpack it all tomorrow to build the bike).
But before all that, a jazz gig awaits at a Hanoi jazz club, an interview with a Vietnamese oncologist for my Tales From a Bicycle Seat podcast, and who knows what other things will surprise me between now and then.
Check back daily for more insights, thoughts, and sharings over the next 30 days with 53 Across Vietnam.
Oh, and I'm riding for a cure for cancer. You know the drill :). Links are below.  Thank you! $1875 raised towards my $5,000 goal so far, and my wheels haven't even hit the pavement yet. Geez!
https://philanthropy.mayoclinic.org