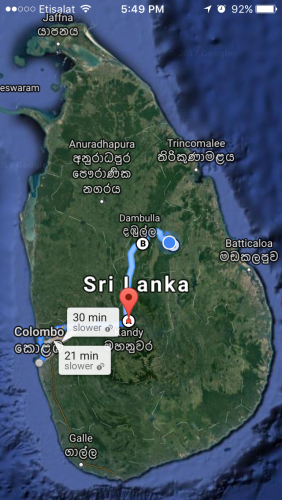 First off, a huge THANK YOU to those who have contributed the $1180 you have helped raise towards my $8,000 goal towards a cure for cancer in my first week of riding on 51 Across Sri Lanka: the 4th Annual Carolyn Held Memorial BIke Ride.
That puts the grand total, after four summers of rides, at $40,000 that has been gifted, tax-free, to Mayo Clinic to help support cancer research.
My ride across Sri Lanka (and my fundraising) continues until August 4th.  Please share this blog and link with your friends and family who would consider donating to cancer research:
philanthropy.mayoclinic.org/carolynheld
Wildlife Management 101
Last night my Siberian-Russian bicycling companion and I celebrated our 300th kilometer biked through Sri Lanka. It's not much, compared to some of the distances covered in the first week of other rides I've done in previous summers, but the goals are set differently for 51 Across Sri Lanka; taking the pace slowly in order to see and learn as much as possible is the modus operandi for this journey.
Road signs help with that task. And there are a lot of them here. Most of them seem to be warning signs specially designed for wayward tourists. I actually don't mind being thought of as ill-informed when it comes to Sri Lanka, especially when I'm experiencing it outdoors on a bicycle that can only go so fast when it comes to danger on the road. Warning signs are viewed as helpful, not a hindrance, when one is about to bicycle 40km through a corridor that is known for big game wildlife crossing the highway. By all means, please pretend I'm an idiot!
Instructions For Tourist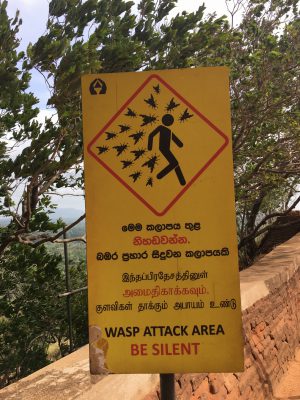 I encountered this nifty sign on a narrow rock ledge crowded with Japanese tourists, halfway up a slow, precarious climb to the top of the rock fortress Siguriya Rock. This sign had less alarming variants towards the beginning of this climb, signs that didn't quite reveal the apocalyptic possibilities of this juncture in the climb. Especially if people didn't keep their mouths shut.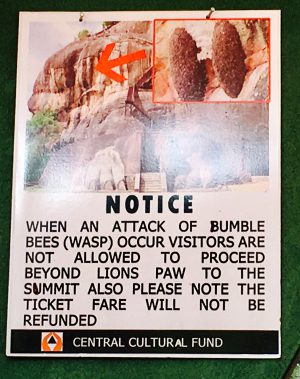 This became painfully obvious in contrast to all the Japanese tourists milling around me NOT keeping their mouths shut, oblivious to the warnings on the sign (which for some reason wasn't also translated into Japanese) as they elevated the decibel level continuously higher, trying to corral grandpa-san and grandma-san into yet one more pose with the selfie stick and a butt-picking monkey.
I struggled to quell the fantasy of a swarm of angry wasps in a gargantuan cloud the shape of Mothra, swooping down to photo bomb them all into silence…
Slow Down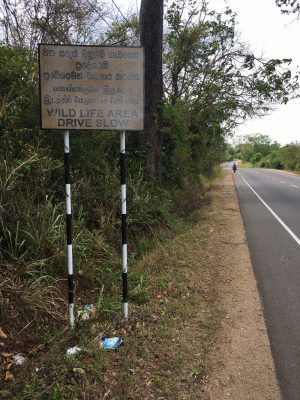 You can see that the wildlife holds the trump card here in Sri Lanka; the first warning signs you see actually warn the tourist that its a punishable offense to harm any of the wildlife in a vehicular accident. Even the deer. So, "you break it, you buy it".
But it must have taken enough deaths of tourists by crossed elephants, angry hoards of underfed monkeys, or depraved sleep-deprived wasps to make Sri Lankan's sit up and take notice that, if all the tourists are dead, who's gonna run the course?  It remind me of an exchange between Bill Murray's character and his boss, a Scottish golf course manager (imagine a very thick Scottish-brogue voice) in one of the epic wildlife vs. man movies, Caddeyshack:
Sandy: Carl I want you to kill all the gophers on the golf course.
Carl Spackler: Correct me if I'm wrong Sandy, but if I kill all the golfers they'll lock me up and throw away the key.
Sandy: Not golfers, you great fool. Gophers! The little brown, furry rodents!
Carl Spackler: We can do that. We don't even need a reason.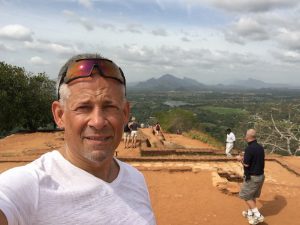 I will continue to have a reason to be over here in this amazing land, carrying on the legacy set by Carolyn Held, my original adventure cyclist friend who, were she riding with me, would be finding the same humor, compassion, beauty, and wisdom behind every sign, little or big, subtle or direct, that we would come upon on this amazing adventure via bicycle.
Thank you again for helping me honor her memory by giving to cancer research.