Day 9 (Part 1 of 3)
I am beginning to see why Carolyn was so touched for the rest of her life by this journey…
I packed up and left Beyond Hope campground around 8am, a late start for me, as I prefer to be on the road by 7, when its cooler, and less traffic. I stopped by the maintenance office to say goodbye to the groundskeeper, Tom, who had been looking after me for two days, and to pick up my battery pack, charging overnight in his maintenance shed. Hitting the road, I found myself in more and more spectacular, beautiful mountain country with every turn of the road.
For a Minnesota boy, anything taller than a stalk of corn or an old oak tree is mesmerizing. Montana was several miles down the road, waiting for me, but for now, I was enjoying the beauty of the last few miles of Idaho panhandle that were being offered to me. Large mountain lakes to my right, towering mountain cliffs and ridges way up to my left. And all along the way, the scent of gradually warming pine, wafting in the air.
I eventually came upon Clark's Fork, and took a moment to call my friend, Montanan troubadour and Blackfoot Indian Jack Gladstone, who was expecting me to join him on stage at Many Glacier Hotel in East Glacier National Park in a few days. Jack asked "where are you right now?", and when he heard my planned route for the day, said "George, Ive got a gig just up highway 56 at Bull Lake Lodge tonight! Come join me on stage!" Looking at my timetable, and at Carolyn's route, I was going to pass right by the place within the next few hours. I smiled, thinking to myself, "two weeks ago tonight you were on stage at the Kennedy Center, George, and now you're gonna have the mountains of Montana as your stage!" I knew all of Jack's music, as Ken Vork and I had arranged several of his songs a few years ago for the Glacier National Symphony, performed for the 100th anniversary of Glacier National, in Kalispell, MT. I had a great ride to look forward to now.
There was going to be a piano ready for me at the end of it!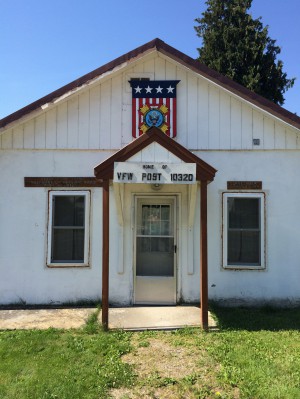 While in Clark Fork, I had paused to snap a picture of a particularly colorful looking VFW post. Having volunteered for 30 years for the American Legion as a Badger Boys State counselor, and having met and worked with veterans from WWII on up, I always take note of the presence of an American Legion or VFW post, and what they stand for. All different in appearance and portrayal, they oft reflect something about the town itself. As I lined up my picture, like usual, balancing the bike against my body, I sensed as car pull up to my right. I stopped my picture taking to take a glance at a black, low-slung dark muscled Idaho State Patrol car that had pulled over by me. The silhouette of a big shouldered officer, watching me, was visible through the front windshield. Thinking "'Am I being profiled..?" I nodded to the silhouette and returned to my photo journaling. Later on, outside of town, I passed the cruiser again, as he was chasing down an unlucky speeding motorist coming in from the East. "This dude is so lucky to have this section of mountain highway as his beat," I thought, "but woe to the lead-footed touristen…".
It wasn't my last encounter with officer TJ Hooker, however, as about one mile before the Montana border, I was working on a photo-op with a rusted out '57 Plymouth Fury (the same car that had driven the hapless Arnie Cunnigham to his doom in the Stephen King movie, Christine), when I heard the now familiar rumble of the officer's Dodge glide up to me. As he glided up, I leaned down to catch his eye through the passenger window, ready to hear a sermon about why it was stupid for me to be biking this remote road, or something. "Hey," I ventured, thinking this was a good way to start a casual conversation with a built Idaho State Trooper. He asked me where I was headed, and when I said "from Seattle to Boston" I got pretty much the same reaction I got from anyone so far on this journey: he did a double take, and then I told him the story of Carolyn Held and her ride, now my ride, and he just shook his head in a "dude, you are brave…" sort of way. We hung out and chatted for awhile, and at the end, he took my name down and said he was going to send a contribution to Carolyn's memorial at the Mayo.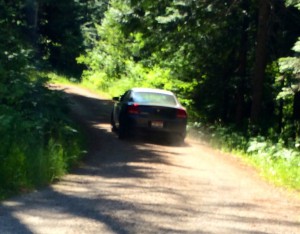 On departure, he handed me a packet of planters peanuts through the window, wished me the best, and then whipped his cruiser down a dirt lane into the Idaho woods along the highway, melting into the woods, no doubt to soon uncloak like a Klingon cruiser a few more miles down the road to bust an unsuspecting speeding tourist from Montana. He was cool, and I could have ended my day right there and said "this day has been an adventure".
But the adventure, and the surprises, weren't over for the day.
(Side note….I gave him the moniker "TJ Hooker" as I was trying to think of the name of a tv cop series that had a cop who drove a car like his. If you remember, actor William Shatner played the role of TJ Hooker. Well, the officer later found me on Facebook, and his name, unbelievably, is KIRK :)
Here's where you can give to The Carolyn Held Memorial Fund
Your contribution is 100% tax deductible.
You can also support me directly:  If you have extra to share, I welcome you to contribute to my food, camping and equipment expenses.
These donations are not tax deductible. However, they do help offset the cost of being on the road for 48 days, working to raise funds for the Carolyn A Held Memorial Fund.